Submitted on Thu, 7 Jul 2016 - 05:33 PM
The Justice Minister has justified the use of shackles on student activists, asking rights defenders what would they do if unshackled prisoners escape, while a junta spokesperson said the use of shackles depended on officials' personal discretion.   
Although the seven activists from the New Democracy Movement were already released, they have left criticism against Thailand's justice system as the pictures of them being shackled by chain were widely spread throughout the media. Angkana Neelapaichit, a commissioner of National Human Rights Commission of Thailand, has
said
that the activists should not be shackled as they did not commit a severe crime and such measure is a human rights violation.
In response to the criticism, on Wednesday, 6 July 2016, Gen Paiboon Koomchaya, the Justice Minister, said that the use of shackles was not a human rights violations as authorities have the legal power to impose shackles on any prisoner as long as they see it appropriate, saying that the shackles aim to prevent prisoners from escaping, Matichon Online
reported
.
"They (authorities) have a legal power and they have to exercise it wisely. What if the prisoners escaped? Would you condemn authorities again?," Matichon Online quoted Paiboon as saying.
In the same day, Matichon Online also
reported
that Col Sansern Keawkamnerd, the junta spokesperson, said that the use of shackles was the prison officials' personal judgement which depended on various factors such as the severity of the crime, the number of suspect, and the number of officials in charge.
The spokesperson added that the authorities were especially gentle with the seven activists given that they used a comfortable van to send the activist to the Military Court, rather than a usual prison vehicle, asserting that the authorities did not intend to degrade the activists' dignity, reported Matichon Online.
According to Matichon Online, Sansern also told the student activists to keep studying and strictly following the law, adding that they should thank the junta's mercy for releasing them.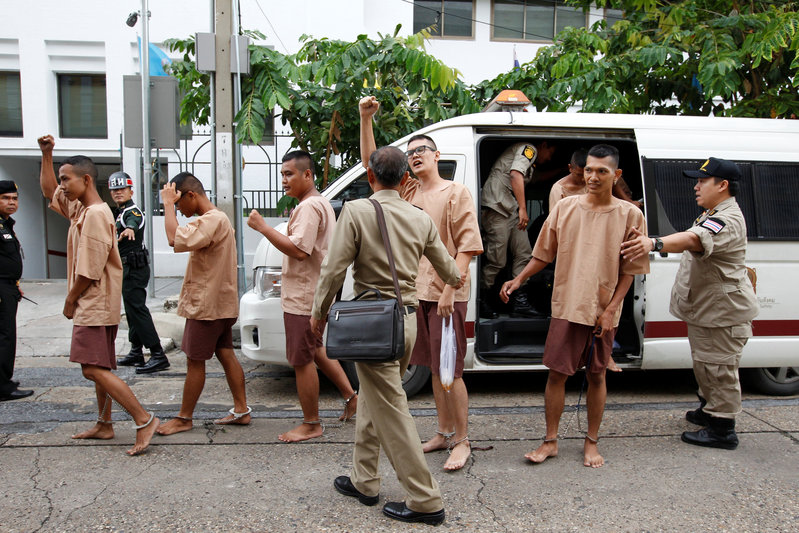 The seven activists are shackled while being taken to the Military Court (source: Street Insider
)