Submitted on Wed, 10 Aug 2016 - 05:41 PM
Contradicting the Minister of Justice, the Thai National Human Rights Commission has concluded that shackling political dissidents is a violation of human rights.
What Tingsamitr, Chairperson of the National Human Rights Commission (NHRC), on Tuesday, 9 August 2016, concluded that the use of shackles by the Department of Corrections (DC) on detained political activists from the New Democracy Movement (NDM) violates human rights and dignity, the Manager Online reported.
The official NHRC statement came about a month after the widespread dissemination in the media of images of the shackled NDM activists being taken to the Military Court of Bangkok on 5 July 2016.
The activists were arrested in late June for distributing flyers criticising the junta-sponsored draft constitution, but the Military Court later granted them bail in early July.
The NHRC's stand against shackling political dissidents differs from that of Gen Paiboon Koomchaya, the Justice Minister.
The Minister earlier said that the use of shackles was not a human rights violation as the authorities have the legal power to use shackles on any prisoner as long as they see it as appropriate, saying that the shackles are intended to prevent prisoners from escaping.
According to What, the NHRC has concluded that the activists should not have been shackled as they had not been accused of committing severe crimes.
He added that the NHRC has recommended that the DC instruct its personnel to respect human rights and come up with better measures in treating detainees.
What further told the media that the NHRC has prepared a draft NHRC law, which will be sent initially to the Constitution Drafting Committee (CDC) who will now draft organic laws after the draft constitution was passed.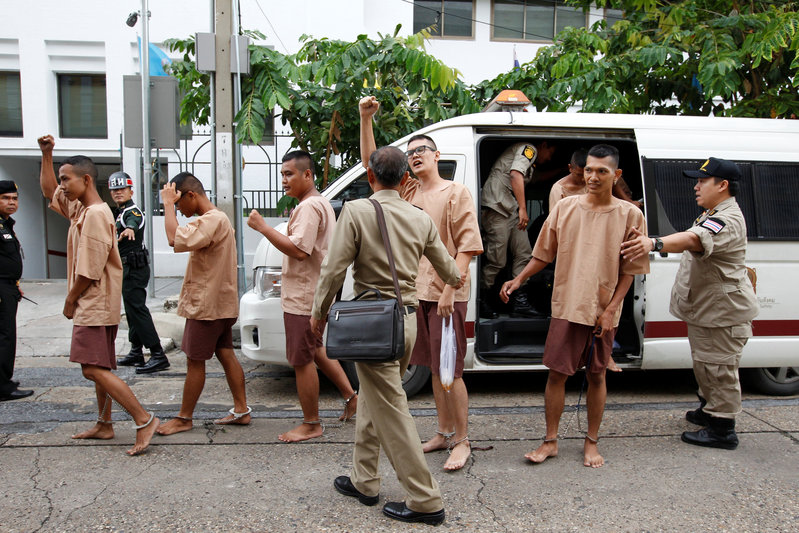 The seven anti-junta activists are shackled while being taken to the Military Court on 5 July 2016