Submitted on Fri, 16 Jun 2017 - 03:22 PM
Just a day after the arrest of a suspect in the recent hospital bombing case, another minor blast wet off in Bangkok leaving one injured. 
On 16 June 2017,
a bomb went off
 on Sukhumvit Road between Sois 40 and 42 in front of the UNESCO office, injuring a female street cleaner. Police investigators found a bag at the scene containing an object wrapped in black tape.
The explosion occurred when the cleaner tried to open the bag. The type of bomb remains unconfirmed.
This is the fourth blast in Bangkok to take place over the past two months.
The first bomb
went off near the old Government Lottery Office on 5 April,
the second
outside the National Theatre on 15 May and the
third at a Bangkok Hospital
administered by the Royal Thai Army on 22 May.   
A day prior to the blast at Sukhumvit, authorities
arrested a 62-year-old man
on suspicions of being involved in the hospital blast. They believe that there are others involved in the bombing.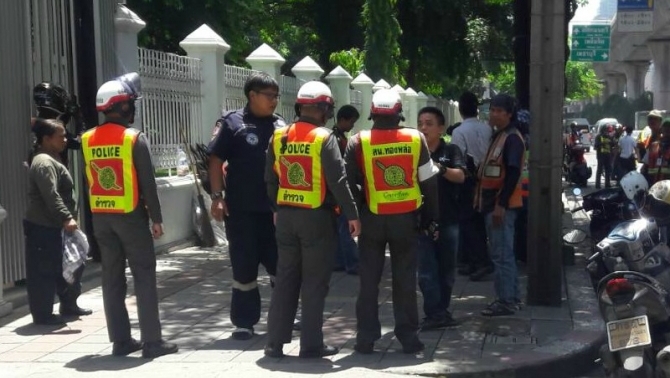 Police officers investigate the blast scene (Photo from Js100)