Submitted on Mon, 9 Oct 2017 - 09:33 PM
October has brought a mood of mourning to Thailand as the late King Bhumibol's cremation approaches. But October has long brought memories of loss for Thai society, ever since the bloody 6 October massacre 41 years ago. 
In the early morning of 6 October 1976, right-wing groups massacred students at Thammasat University who had gathered to protest the return to Thailand of a former military dictator ousted after the October 1973 protests. More than 100 student activists were killed by state security forces, paramilitary forces and right-wing mobs, and over 3,000 arrested for allegedly being communists and threatening Thailand's monarchy. 
Each year, Octobrists (survivors from the student movements of 14 October 1973 and 6 October 1976) hold a commemoration of the massacre to remind Thai society about its brutal past. But efforts to recall the massacre continue to face censorship from the Thai state.
On 6 October 2017, police banned a screening of the film "The Time It Gets Dark" at a commemoration event, citing "inappropriate timing". Produced by Anocha Suwichakornpong, the film about memories of the 1976 massacre has been nominated for this year's Academy Award for Best Foreign Language Film. 
But amidst this period of sadness, there was some "good" news as US President Donald Trump welcomed Thai junta head Gen Prayut Chan-o-cha to the White House on 2 October 2017. This was the junta head's first visit to the US after three years in power.
During the meeting, Trump proposed an increase in exports to Thailand as a way to strengthen relations between the two countries.
"Our relationship on trade is becoming more and more important. And it's a great country to trade with; they make product [sic] and different things that are really very important to us, and we likewise sell to you," Trump stated. "I think we're going to try and sell a little bit more to you now, make that a little bit better if that's possible."
Gen Prayut also promised Trump that the date of Thailand's next election will be announced next year. 
"Next year, we will definitely announce the election date," Prayut told media after the White House visit. "President Trump did not put any pressure on us at all during the talk." 
Recognizing Thailand's strategic importance to the United States and the region, President Trump welcomed Thailand's commitment to the Roadmap, which, upon completion of relevant organic laws as stipulated by the Constitution, will lead to free and fair elections in 2018.  
Since his return, Gen Prayut has repeatedly denied he said this and 2018 will only see an announcement on the election date, not the actual election.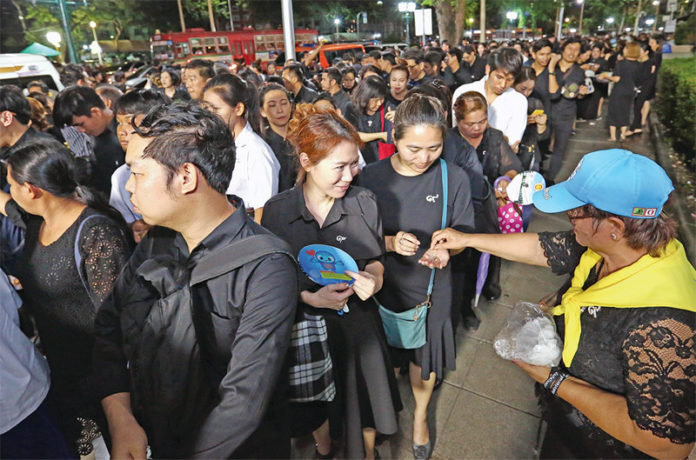 Thai people line up to pay respect to the late King's body at the Grand Palace (Photo from Prachachat)