Submitted on Tue, 17 Oct 2017 - 05:08 PM
Stores, cinemas, post offices, banks and the stock market have granted their employees a day off to honour the cremation of the late King Bhumibol.  
On 16 October 2017, the CP Group announced that its 7-11 convenience stores, the most popular in the country, and other stores in the CP Group nationwide will be closed on 26 October, the day of the cremation. The company stated that it wants its staff to participate in the historic event. 
"In this period of sorrow for Thailand, the Charoen Pokphand Group would like to join the Thai people in showing loyalty and mourning for His Majesty King Bhumibol Adulyadej, and enable our staff to participate in mourning at the royal cremation," read the
CP Group statement
.
As the late King's cremation approaches, various companies have announced that they will close on 26 October to allow their employees to take part in mourning the King. Most shops will be closed on that day with the exception of airport branches.
The companies that have already announced closures include Tesco Lotus, the Thai Public Broadcasting Service, Advance Info Service, Major Cineplex, Index Living Mall, Central Department Store, the Thai Military Bank and Kasikorn Bank.
In addition to private companies, some state enterprises, like Thailand Post and the Stock Exchange of Thailand, have also announced that they will be closed. 
Some businesses have announced that they will provide services on the day of the cremation in order to facilitate the ceremony. 
On 17 October,
Pata Department Store
announced that it will remain open on 26 October. As the nearest department store to the site of the cremation ceremony, the store will allow people to stop and rest on their journey to the ceremony. Central Plaza Rama II branch will also provide a service on that day as it has to deliver artificial flowers to the ceremony.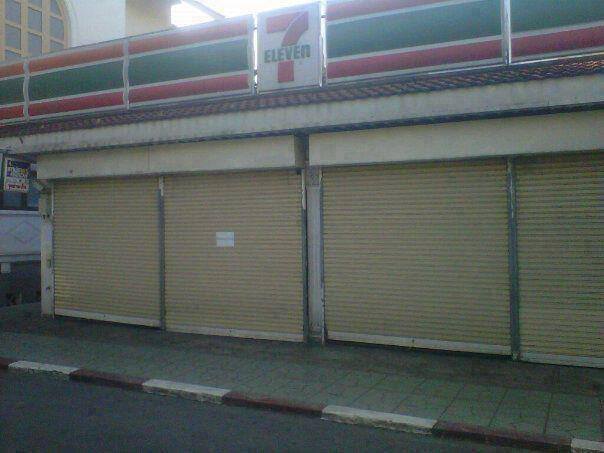 A closed 7-11 (Photo from Pantip)