Submitted on Thu, 2017-12-07 23:37
The lone-wolf bomber of an army-administered hospital has been sentenced to a further 27 years in prison.
On 6 December 2017, the Criminal Court found Wattana Phumaret, 62, guilty of attempted murder, planting a bomb, causing serious damage, and possessing explosives in public and sentenced him to life imprisonment, reduced to 27 years because of his cooperation with the prosecution. 
Wattana, a former electrical engineer, was accused of planting a
bomb on 22 May
at the army's Phramongkutklao Hospital which wounded over 20 people. The media first questioned whether the incident was intended to protest the third anniversary of the junta's coup because the blast occurred in a room named "Wongsuwan," the surname of Deputy Prime Minister Gen Prawit Wongsuwan.
The authorities arrested
Wattana on 15 June at his house in Bangkok. A search found materials for producing cheap explosives such as plastic tubes, wires, circuits, and nails.
Junta head Gen Prayut Chan-o-cha later told the media that judging from his actions, Wattana could be a 'lone-wolf' terrorist but the military would investigate if he was backed by any political group.
On 13 July, the court had sentenced Wattana to four years in jail for illegally making and possessing explosives and illegally possessing black powder. Combined with the latest sentence, Wattana faces a total of 31 years in jail.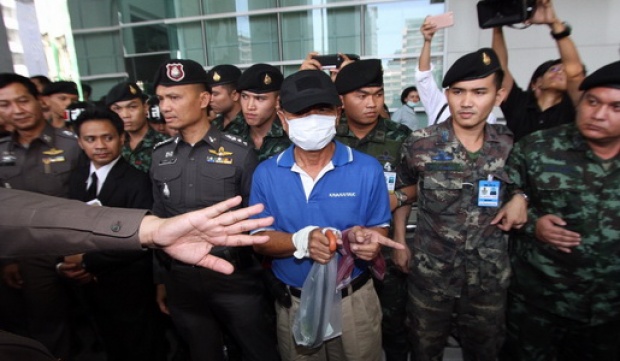 Security officers escort Wattana to the court (Photo from
TeeNee.com
)