Submitted on Mon, 2018-04-09 19:48
Security officers have interrupted a small protest by Chulalongkorn University student activists who called junta chairman Prayuth Chan-o-cha a 'dictator.'
On 9 April, four students held up a sign reading 'Chula people love Prayuth dictator' outside of the Siam Square One shopping mall as the junta chairman exited a talk on technology and innovation that he gave at the university.
Prayut's guards ripped the sign and started to steer the students away from the area until Prayuth noticed and told his security officials to stop, reported
Khaosod English
.
"Leave them alone. Don't hurt them. If they don't understand me, let them be," Gen. Prayuth told his guards who had torn the word 'dictator' off of the paper sign.
"How clever of you! When the country is ruined, don't forget to come out like this, too," he then called out to the students.
Wasinee Pabuprapap, a student in the Arts Faculty said the group had planned to stage the demonstration as he entered the auditorium but the large security presence had prevented them from approaching him. So instead they held up the sign as he was walked past the shopping mall on the way to his motorcade.
"We planned to show him a sign that condemns him and also Chulalongkorn University for inviting him," Wasinee Pabuprapap told Prachatai English. "Because we are not so content that our university gave him some kind of legitimacy by inviting him to speak here."
Tanawat Wongchai, a student in the Economics Faculty was among the other protesters. Wasinee said the other two students asked not be identified. They are not affiliated with any larger organization and hold the event by just four of them. She added that while she had hoped for a greater turnout, she is still glad she participated.
"I know most of us think the same way but do not dare to show it," Wasinee said, adding that afterwards she was surprised how many of her friends messaged her expressing their support. "It's good to know that we are not alone."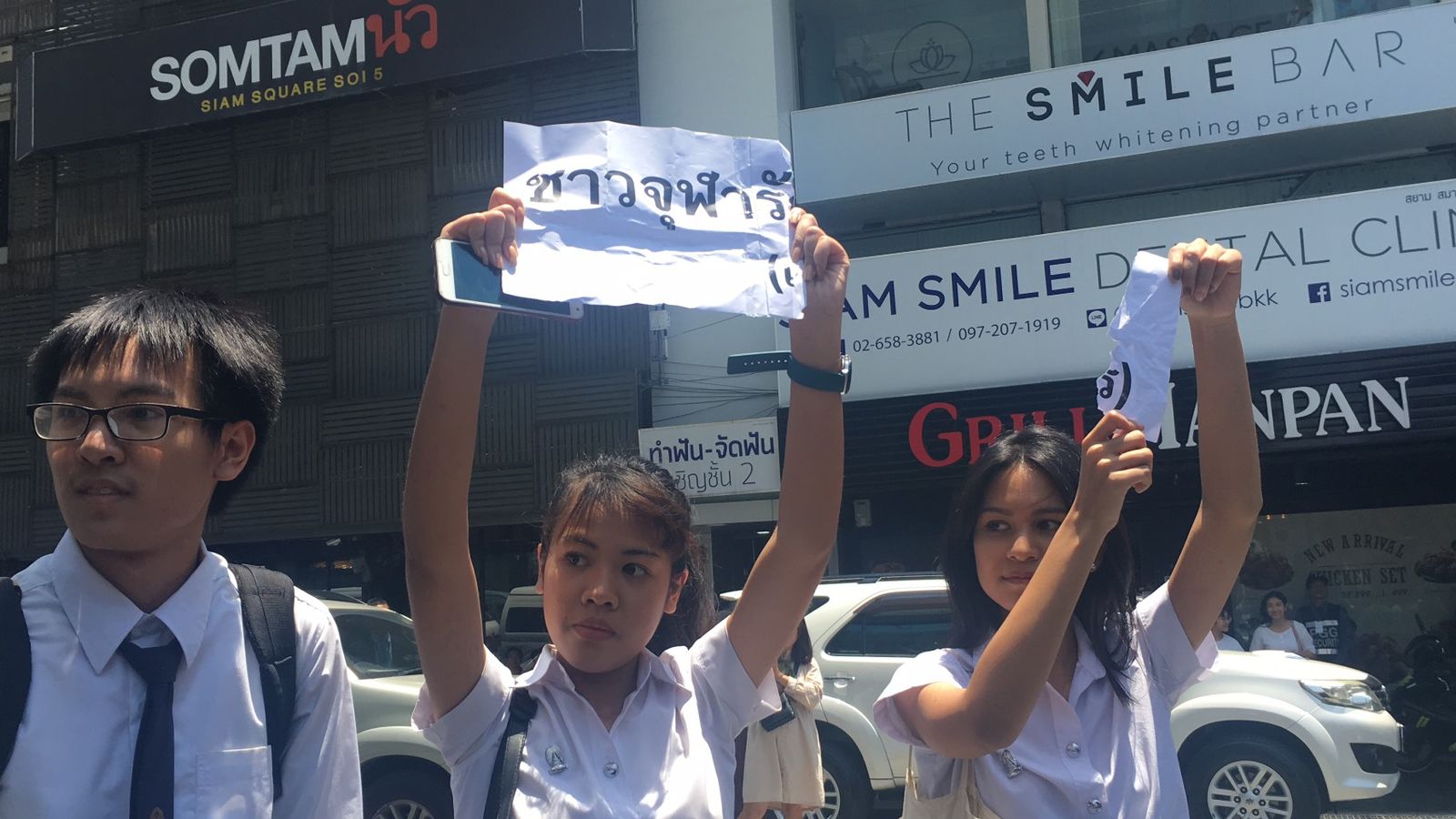 Wasinee (right) and two other activists protest Prayut (Photo from Voice TV)