Submitted on Tue, 8 Sep 2020 - 03:34 PM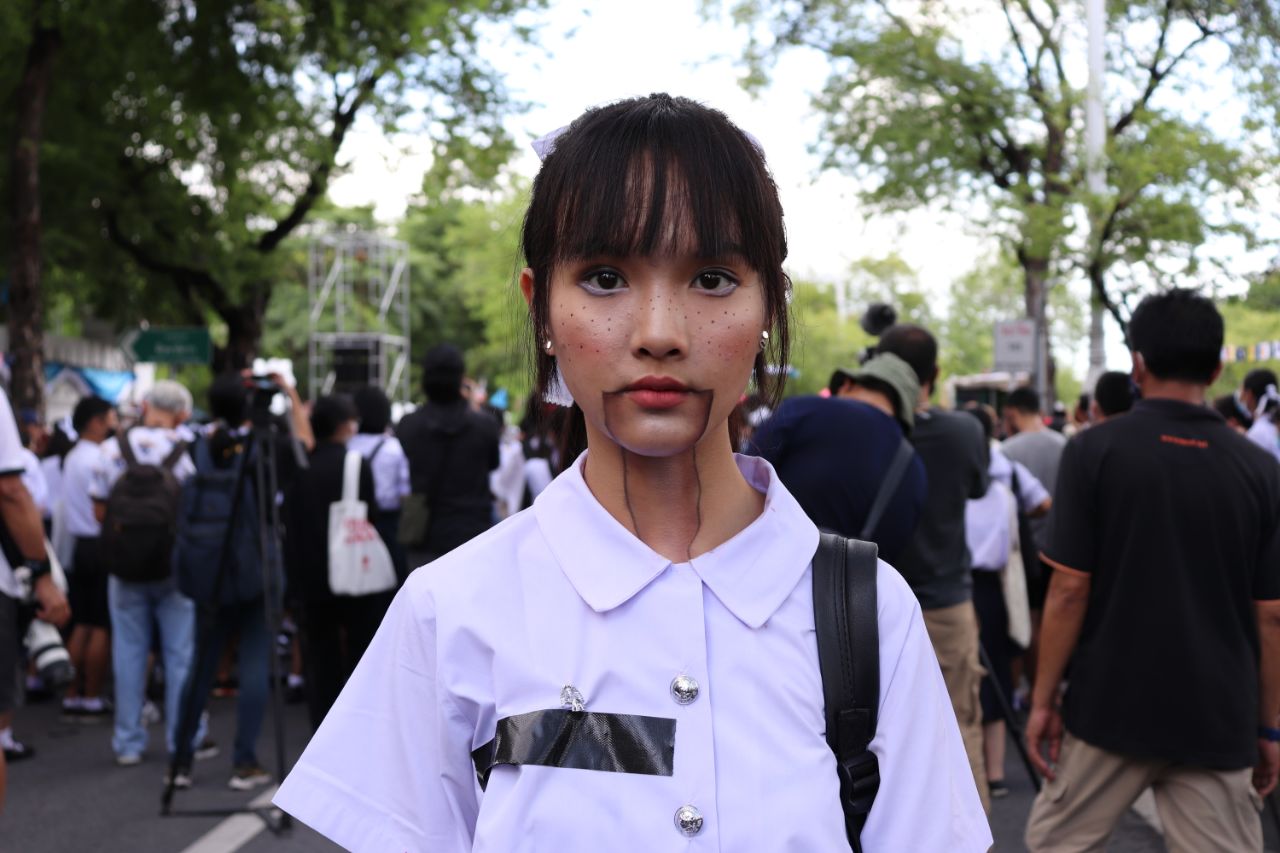 Caption: Suphitcha, a student from Chiang Mai, said that more young generation people gathered here because they deserve a better future. Source: Prachatai
The Bad Students group gathered in front of the Ministry of Education to challenge Education Minister Nataphol Teepsuwan in a debate. In a highly organized protest, the students repeated 3 demands and 1 ultimatum as they called for education reform.
On 5 September, around 300 students from 50 schools gathered in front of the Ministry of Education. The students hung wreaths on the wall of the Ministry as a show of mourning for Thai education while girl students tied white ribbons in their hair as a sign of resistance.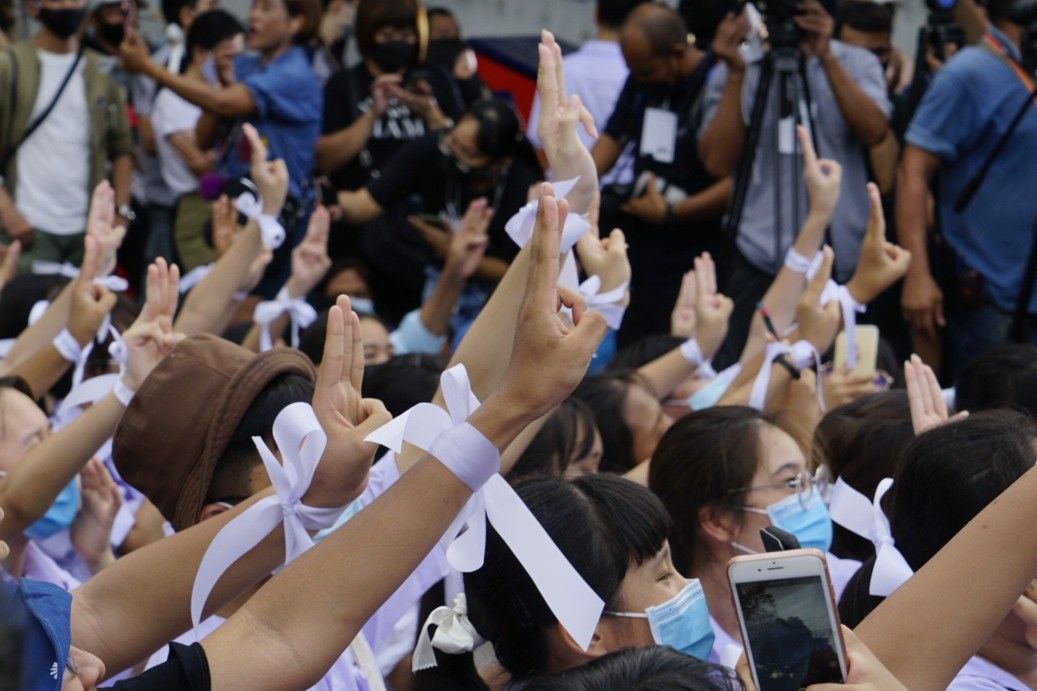 Source: Prachatai
The students blew whistles, one of the symbols of the People's Democratic Reform Committee (PDRC), and raised a banner that reads 'Shutdown dictatorship. Restart education' as a parody of the PDRC campaign slogan 'Shutdown Bangkok. Restart Thailand.' Nataphol was ridiculed for being a leading figure in the PDRC protests which led to the military junta seizing power in 2014.
The students repeated their 3 demands: stop the harassment of students, cancel outdated rules, and comprehensive education reform. They also gave an ultimatum that the Minister must resign if he fails to meet the demands.
Apart from their 3 demands and 1 ultimatum, they also called for reform on other issues. 'Reform the monarchy, revise Thai history textbooks' read one banner raised by a Thammasat University student. He said Thai history textbooks are monarchy-centric and overlook local histories, which in particular fuels conflicts like one in the south of Thailand.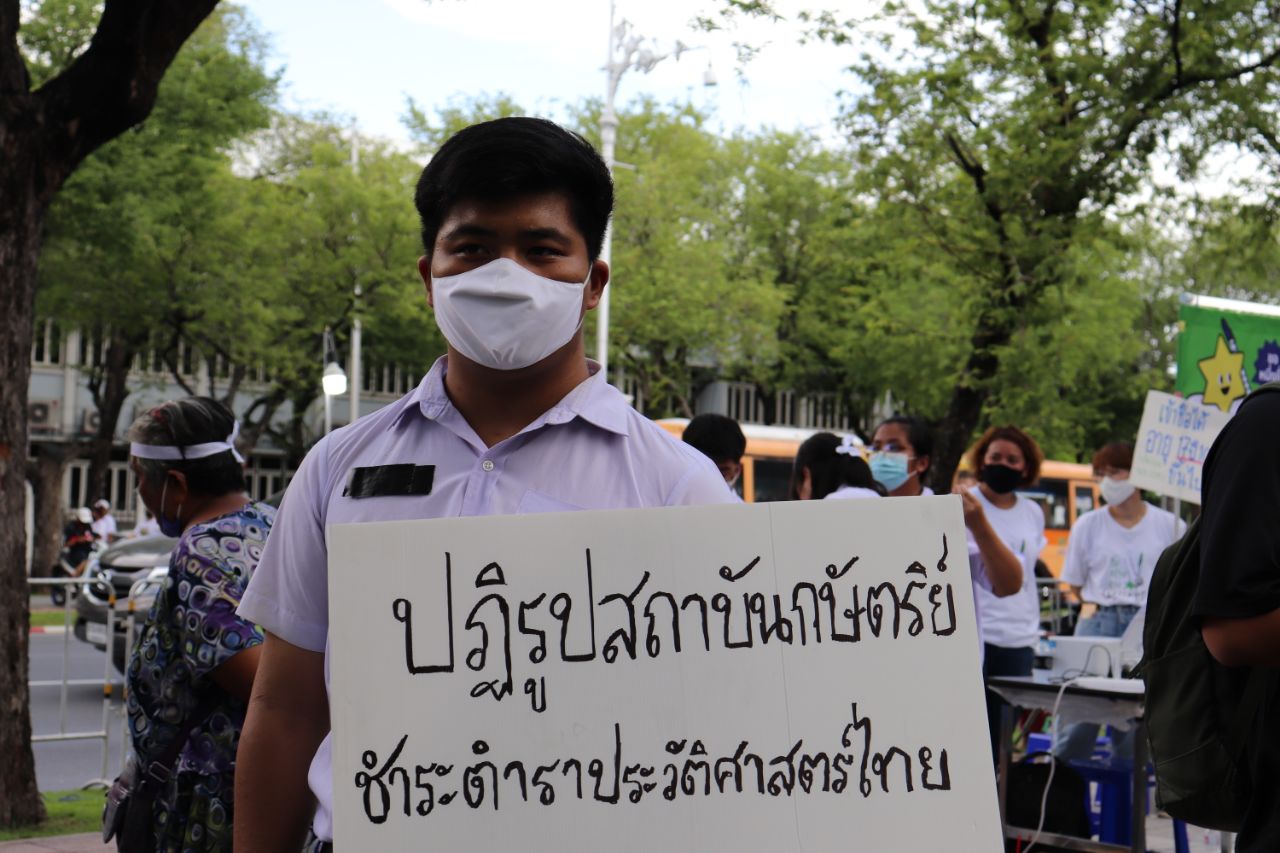 Caption: 'Reform the monarchy, revise Thai history textbooks' read one banner raised by a Thammasat University student. Source: Prachatai
Other students called for reform in vocational education. One student raised a sign reading 'Cancel V-NET'. Next to him was Nong Khao (alias) from Vocational Students against Dictatorship. She told Prachatai that the V-NET exam was useless because it was only used for ranking schools.
V-NET cannot be used for college application, said Nong Khao. She said vocational schools also failed to provide information about O-Net, the exam required to enter a college, which is usually given in non-vocational schools. This shows a gap between vocational and ordinary education.
According to the 2021 national budget bill, vocational education gets 0.7548 percent of the total budget, the lowest in 15 years in terms of percentage.  
Caption: One student raised a sign reading 'Cancel V-NET'. Source: Prachatai
Despite some hesitation in the morning, Education Minister Nataphol Teepsuwan came out of the Ministry to join the debate on stage. As planned, the students welcomed him with boos and 3 fingers as he entered the stage. The background was decorated with an unusually colourful vinyl backdrop as if the debate was taking place in a flower garden.
The debate was highly anticipated as Bad Students had challenged Nataphol to a debate via social media. Laponpat Wangpaisit, a grade 12 student, represented the student groups to debate with the Minister.
The dialogue revolved around their 3 demands and 1 ultimatum. Laponpat asked about measures against various forms of harassment against students including physical and sexual abuses based on gender identity or political expression.
Caption: Education Minister Nataphol Teepsuwan came out of the Ministry to join the debate on stage. Laponpat Wangpaisit, a grade 12 student, represented the student groups to debate with the Minister. Source: Voice TV
He said that the Education Ministry should come up with an evaluation process, like an anti-harassment index, if they are willing to protect the students. Laponpat had submitted such a proposal to the Ministry, but its legal department rejected it claiming they received too many complaints from too many schools.
Nataphol responded that despite 109 harassment cases, there are still 500,000 teachers who understand students. He gave an assurance that expressing political opinions in schools is permitted and encouraged students to submit their problems through the new online channels introduced by the Ministry.
He said the students must also be fair to the abusers. Also, identification of the student involved was needed to ensure that a complaint was genuine as he was certain that the system was safe enough to protect their personal information.
(Nataphol's response was incorrect. There have been abuses in 109 schools, not 109 cases of abuse.)
Laponpat also questioned the Minister about outdated regulations. The Minister promised to conduct a thorough investigation into cases where school rules lead to harassment and abuse of students. The Ministry is also considering the abolition of regulations which have been in force for more than 2-5 years, but the process of student participation was not addressed.
Outdated regulations
Thai students suffer most blatantly from haircut and uniform regulations. According to the new haircut regulations released this year, boy students can have either short or long hair, but it must not be longer than their hairline. Girls can also either have short or long hair, but it must not be too long and must be tied appropriately.
But teachers have exploited the vague regulations and punished students based on arbitrary judgements, forcibly cutting students' hair to make them look ugly.
Uniforms are also compulsory for students in Thailand according to the 2008 regulations. Conservatives have defended it, using the argument of equality as it makes the rich and the poor look equal. This idea has been repeatedly debunked as the appearance of equality burdened poor families with even heavier uniform expenses.
With regard to student uniforms, Nataphol said that education reform should come first. Uniforms are good for the safety of students and for closing the gap between the rich and poor.
Laponpat argued that in reality many cases of abuse happened to students in uniform. 'A student uniform is not a suit of armour,' said Laponpat. 'It cannot make students safe.' The Minister insisted that the uniform issue could wait.
Laponpat raised concerns about LGBTQ+ students who were prohibited from expressing themselves. For example, the haircut regulation only mentioned boys and girls. The Minister answered by not answering: today boy students cannot have long hair like girl students and girl students cannot have short hair like boy students.
At the end of the debate, Nataphol said that despite the adversarial setting, he welcomed the students' suggestions.
'Talking to each other peacefully, as far as Thailand is concerned, should be the best outcome,' said Nataphol. 'In the past, in the past, why couldn't we get to solving problems? Because there was no discussion, no platform like this. Today the platform is open. Thank you again for the time for me sit here and have a conversation with you. Thank you.' said Nataphol.
The students gave a souvenir to the Minister in accordance with a Thai tradition which requires a gift to invite adults to engage in social activities. The souvenir included 8 textbooks from the problematic curriculum, a cane, 44 whistles, and 'Pu Thai', a snack whose name is similar to the nickname of former Prime Minister Yingluck 'Pu' Shinawatra who was overthrown by the PDRC protests in 2014.
'I hope that I won't see a flawed curriculum like this and won't see a cane in the education system again,' said Laponpat.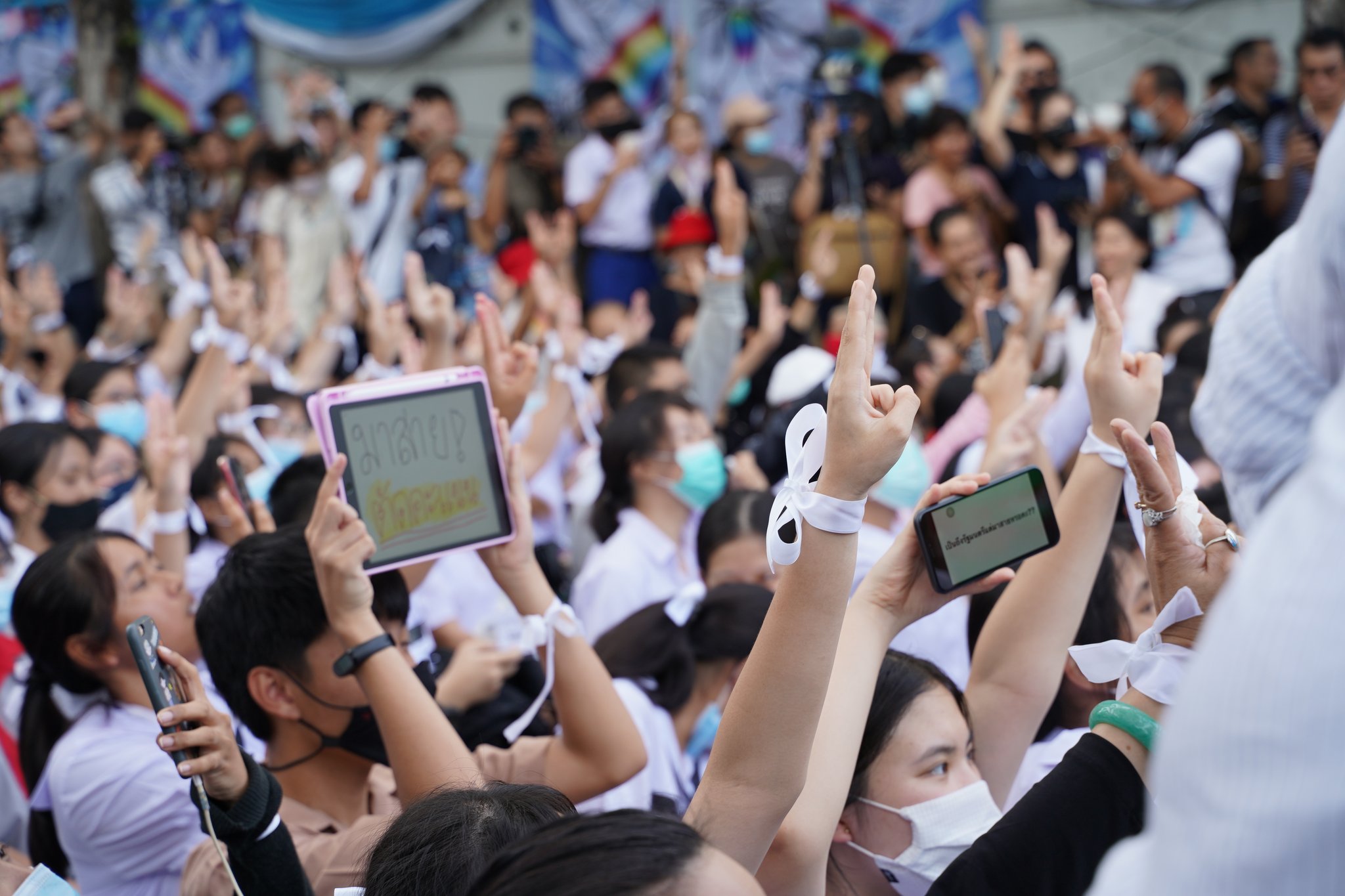 Thai schools in chaos
This is the second protest in front of the Education Ministry. On 19 August, Bad Students put the Education Minister in an awkward position by shouting at him to get in line after he said he wanted to give a speech. They also played the national anthem to force him to stand still and prevent him from getting away. As at this protest, they blew whistles to mock him as a leading PDRC protester back in 2014.  
The protests are taking place amid growing resistance in schools nationwide as the students suffer from teacher abuse and Ministry regulations. On 27 August, BBC Thai reported that the Associate [sic] of Students in Thailand (AST) and the Uncommon International Group (UIG) filed a complaint with the Ministry of Education disclosing that there have been cases of abuse against students in 109 schools.
Since the beginning of the semester, students have tried to express their political opinions peacefully by raising three fingers during the national anthem and tying white ribbons to their hair and school bags. But their attempts have been met with abuse by teachers.
Thai Lawyers for Human Rights reported that they found 103 cases of abuse against students in 3 days from 17-19 August. The cases include bans on political expression, psychological, physical, verbal and sexual abuse, threats to call parents, and confiscation of and damage to mobile phones.
These abuses occurred despite the Ministry's "Very Urgent Order" on 20 August that schools must provide safety zones for students to express political opinions. In one week, the Education Ministry managed to open online channels for students to file complaints if they experience any abuse. But the students are pressuring the Ministry to do more to bring about genuine education reform.