Submitted by prachatai on Tue, 24 Jul 2012 - 01:52 PM
Blogger [1] and freelance financial analyst Sarinee Achavanuntakul has made some observations about the Crown Property Bureau's recently released 2011 annual report [2].   
The Financial Highlights section of the report, on page 13, says:
'The CPB's total revenue in 2011 is derived from three main sources, rental income and dividend income from Siam Commercial Bank Public Company Limited and Siam Cement Public Company Limited.
The rental income totalled 2,700 million baht. Only 7% of the Bureau's total property holdings in terms of area are devoted to commercial real estate development. The rest consists of land or buildings that are rented to government agencies, state enterprises and associations/foundations as well as medium-to-low-income residential and commercial tenants.

The CPB is financially sound, made possible by stable and continuous revenue yields from its three sources of income. It is confident that it will be able to meet with any instability or changes that may occur in the future.'
In her post on the investigative news website Thaipublica [3], Sarinee says that despite the CPB's claim to hold 'accountability' as one among its core values, it chooses to reveal only one of its main sources of income in the annual report.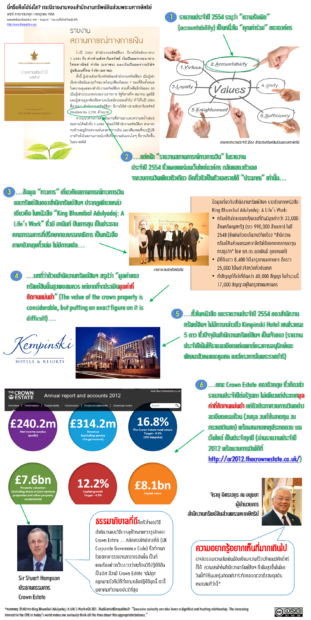 [4]
'Official' information about the CPB's financial situation and properties can be found only in the book 'King Bhumibol Adulyadej: A Life's Work', which was produced under the supervision of former Prime Minister Ananda Panyarachun, and has yet to be translated into Thai, she says.
According to the book, as of 2005, the CPB held stocks and properties worth US$33 billion, and owned about 8,400 rai of land in Bangkok and 25,000 rai in the provinces, for which it had over 40,000 rental contracts with about 17,000 in Bangkok.  The book also states that 'the value of the crown property is considerable, but putting an exact figure on it is difficult.'
Neither the book nor the 2011 annual report mention the Kempinski Hotels and Resorts chain which is owned by the CPB, and the report only focuses on the CPB's conservation and community development work and the royal projects, she says.
In contrast, the Crown Estate in the UK submits to Parliament its annual report which contains exact figures for its sources of income, and which is publicly available on its website [5], she says.
Sarinee ends her post by quoting the CPB Director-General Dr. Chirayu Isarangkun Na Ayuthaya as saying in the book, 'Excessive curiosity can also lower a dignified and trusting relationship. The increasing interest in the CPB in today's world makes me seriously think all the time about this appropriate balance.'
Source:
<p>http://thaipublica.org/2012/07/crown-property-transparency/</p>