Are you Thai? junta head asks media
Submitted by editor4 on Tue, 4 Oct 2016 - 07:56 PM
The Thai junta leader has condemned the media for defaming the country internationally, after stories of an ethnic minority woman bathing in a pothole reached the foreign press. He added that the media should stop questioning him since he is unelected.
(left) An ethnic Karen villager bathes in a pothole; (right) Gen Prayut Chan-o-cha (Photo from Matichon Online

[1]

)
On 4 October 2016, Gen Prayut Chan-o-cha, the junta leader and PM, said the media should not report stories that cast the country in a negative light. He mentioned reports of an ethnic Karen female taking a bath in a pothole that went viral last week, saying the story has shamed Thailand internationally, 
reported
[1]
Matichon Online.
"Write whatever you want. Post any picture you like. And then watch people around the world shame the country. Are you Thai? Aren't you ashamed?" asked the junta head.    
Prayut then suggested that people report their problems to the local authorities, rather than protest online, since the junta is ready to solve all problems quickly. He added that all low-ranking officials responsible for fixing the pothole have been let off with a warning.
He also defended the use of Article 44 of the Interim Charter to dismiss local officials in various provinces across the country, saying the officials have records of corruption. Article 44 grants the junta absolute power.
The junta head argued further that the media should stop asking him about the country's future because he is unelected, according to Matichon Online.
"Think wisely. You've been with me for over two years. Haven't you learnt anything? Am I elected? No. Then let me do my job. Don't think about the future as if I will remain for eight or ten years. Think about this year first," the junta leader stormed. "I have been blamed for fighting with the media. I'm not fighting with media. The media are fighting with me." 
Asked what has made him so moody, the junta head replied, "Nothing. It's my normal mood."
The controversial photo shows an ethnic Karen villager in Tak Province bathing in a pothole near her hometown. She posted an image online to demand that local officials fix the road's surface. The photo quickly became viral, with people in other areas experiencing similar problems subsequently posting their own photos online.
Various international media have reported the story including the 
BBC
[2]
and
Daily Mail
[3]
.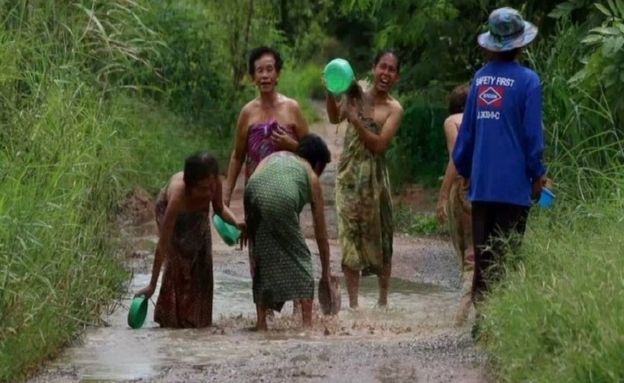 A group of granies take a baht in a pothole (Photo from Facebook)
Local officials in Tak Province repair the road after the picture went viral (Photo from Facebook)